Confidential Shredding
Safeguarding your sustainability.
Businesses handle a vast amount of personal and confidential information/data on a day-to-day basis such as payroll records, client information, credit card and sales receipts as well as supplier information. It is our job to help organisations uphold their legal obligation to keep information secure by disposing of private information in line with the law. Simply putting paper documents in with the mixed recycling or in general waste is not an option – the best way to safeguard confidential information is to make sure it is securely collected, shredded and/or destroyed. This is becoming more important than ever, with even more stringent compliance measures under GDPR to protect personal data against unlawful processing.
Our vast experience in managing the secure and controlled destruction of both paper-based documents and goods for customers, ranges from shredding confidential information from blue chip companies and public-sector organisations, to disposing of children's toys to uniforms and promotional gifts.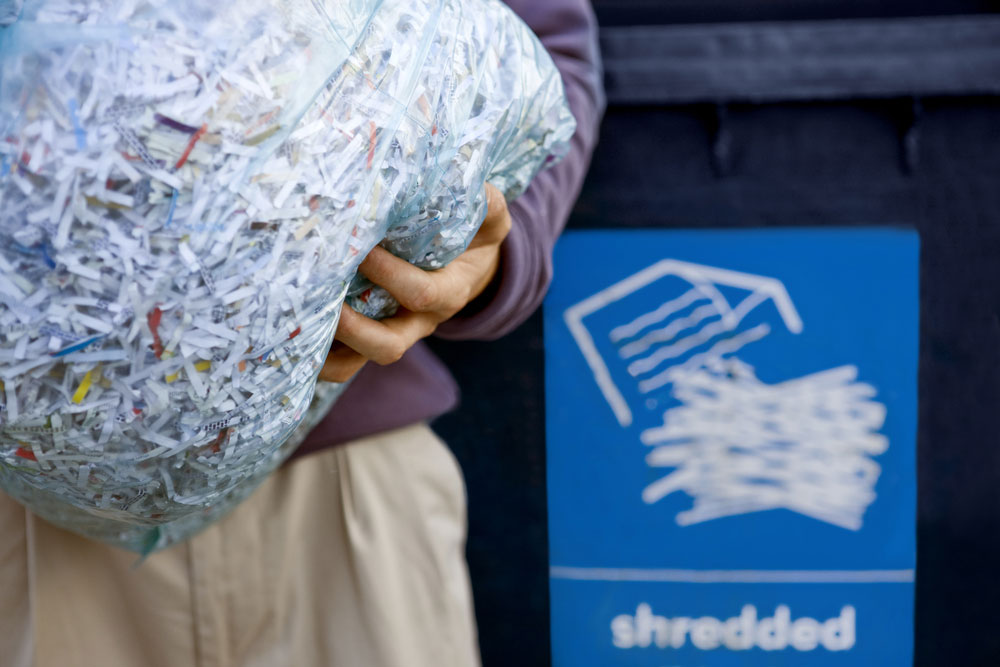 How can we help?
Our document-shredding service can be operated on a scheduled or ad-hoc basis ensuring you are compliant with data protection legislation. Many of our customers take advantage of our double shredding on-site service for confidential documents that are unable to leave site. Our service ensures that paper particles are reduced to no larger than 4mm too, keeping your confidential information out of the wrong hands.
All documentation is to ISO 9001:2015 standard and our partners are accredited to the British Security Industry Association (BSIA) standards. You can also access all necessary licences and certificates via our online client area, or in a format that suits you via our duty of care package.
Certificates of Destruction are produced which clearly indicate the weight of received material and dates of destruction. All material is shredded and components recycled or, if not recyclable they are incinerated, ensuring there is no chance of your personal data being put at risk. What's more, no material is sent for landfill so your confidential waste is disposed of safely and sustainably.
01
Document & data destruction
02
Double shredding on-site
03
Certificates of Destruction
04
No material sent to landfill
Why choose CHC?
We have over 20 yrs' experience in waste and facilities management.
Whether it's a review, consultancy/advice or any of our products or services, our team will work with you to determine your needs and provide an individually tailored solution that works for you.
Increase efficiencies
Reduce costs
Improve energy performance
Stay compliant
Understand any new legislation and regulations
Get on with your day job by taking care of the rest