Skip Hire
Reliable and cost-effective waste Management.
Whether it's a midi skip that holds 4 cubic yards commonly used for small office refurbishments (roughly holding 30-40 bin bags), or a 50 yard roll on/off skip designed for waste such as wood, metal, plastic, large bulky items and segregated waste, we will help you choose the right skip for the job.
One thing we always say to our customers is to be realistic when working out how much waste you need to get rid of. Thinking ahead will save you time and money – it's better to use a skip that is slightly too large rather than one that is too small. Not only is overloading a skip illegal, if the full skip is too heavy then it might not be collected and you will risk incurring additional business and operational costs.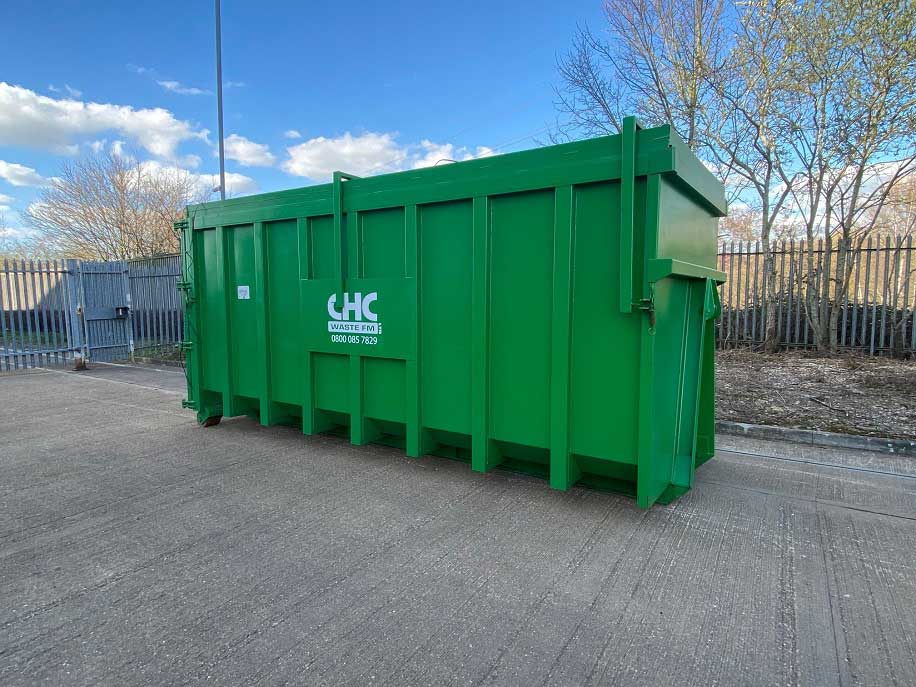 How can we help?
CHC provides an extensive range of skips and containers ranging from 4 – 50 cubic yards for all waste needs.
We can provide skips as part of an ongoing service or on an ad-hoc basis as you require – the way you choose to work with us is up to you. If you're unsure of the size of skip you need, or if the materials you want to dispose of are appropriate for collection via a skip, we can help advise on this.
08
Bulkers (for bigger jobs)
Why choose CHC?
We have over 20 yrs' experience in waste and facilities management.
Whether it's a review, consultancy/advice or any of our products or services, our team will work with you to determine your needs and provide an individually tailored solution that works for you.
Increase efficiencies
Reduce costs
Improve energy performance
Stay compliant
Understand any new legislation and regulations
Get on with your day job by taking care of the rest